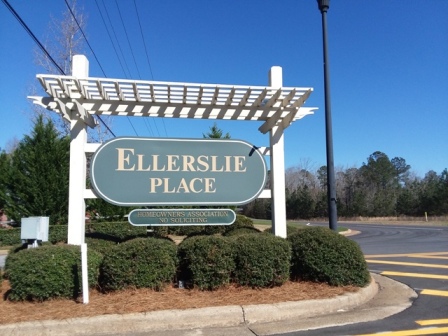 Note: this isn't the official web page for Ellerslie Place. It's a mockup to be used for a demonstration.
Ellerslie Place, located in Ellerslie, Georgia, is a planned residential community that was created in 2002 by J.P. Thayer under the name Ellerslie Development, LLC. There are currently four sections, the first section being essentially completed. The other three sections still have individual lots for sale. Future sections are planned for development extending east down Highway 315, but no date has been identified for those sections. Most of the lots in Ellerslie Place have a natural easement, allowing for a good amount of woods attached to each property.
Ellerslie Place has a Neighborhood Watch program to encourage safety among our residents. Our current Neighborhood Watch program is located at NextDoor. Please post any concerns you have there, under the Crime and Safety tab, as we currently do not have a block captain arrangement, common to other Neighborhood Watch programs.
Copyright ©
. This web page was created by Jeff Clarke. Hosting is provided by QTH.com.